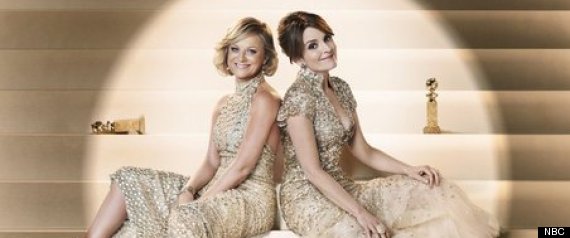 Award season has finally arrived. For the most part I tend to forget about them and only seem to watch them out of boredom.Most of the time I tend to disagree with who wins, who is nominated. And since having little man, I don't get around to half of the movies I want to see. Besides I prefer the music awards, as I am an avid music lover. And OK the fact that I worked in the music industry (radio anyway) for two years probably has something to do with it it Although even that has become more of a performance based show that is making me feel incredible old as the years go by. Probably because I am. But this is another story.
I watched last night to kill time while little man fell asleep in my arms-which he did half hour into the show-and instead of changing the station I just remained watching it. And while I am no critic, here are some of my thoughts regarding last nights glitz, glamor and awards.
1. In order to make it in Hollywood these days, you must be foreign.
I watched and listened to the red carpet interview and one by one noticed that they were English, or Australian. Irish. You name it. I mean I knew there were those actors from across the pond, but I suppose I just didn't realize how many there actually where. Lets name a few shall we,,
Nicole Kidman, Keith Urban, Hugh Jackman, Adele, Damien Lewis, Ewan McGregor. Daniel Day Lewis, Daniel Craig, Helen Mirren...to name a few.
No wonder Madonna has suddenly come up with a britsh accent. Apparently its the cool thing to do.
2. Taylor Swift is a sore loser.
Now, I will admit. I love TS's music, not ashamed to admit I belt out her tunes from time to time. And her perfume is used so much its the first perfume I have ever actually gone through an entire bottle, and gone back for more. And yes she is gorgeous, she can rock just about anything and look amazing-which is totally disgusting I may add. But did anyone else catch that look when Adele was named winner? Seriously, she looked like she was about to send out a hit man on her. Note to self: pray that you are never up against TS for an award. Hire bodyguard if you are. Taylor, I love you but you could at least act like your happy for them...you can't win them all girly. Or maybe you can/should according to you.
3. Jon Bon Jovi doesn't age.
Seriously he doesn't. I do not know if this fact scares me, or gives me hope for the future. But I am pretty sure he looks exactly like he did back when I was a kid. Well minus the whole 80s hair. One thing from the decade I hope never comes back thank you very much.
4.There is no way Claire Danes just had a baby.
Did you see her?? Her post baby body is incredible. Even I am a bit jealous of it. I mean there is just no way she had one...which leads me to believe there is some sort of conspiracy we don't know about. Either that or she was photoshopped in. You know the magic of television and all.
5. Jodie Foster is alive, despite my concerns otherwise.
And actually made an excellent point. Whether you are making fun of her coming out to the world or not is one thing-I am not, could care less-the fact that she got up there, and did a 8 minute speech on the media's obsession with the need to know is pretty incredible. She is absolutely right, everyone deserves their privacy and who are we to demand that we know the ins and outs of their every day life's, including who they are involved with romantically??
Overall it was not a bad show, Amy and Tina did have some funny moments and kept it light-hearted. And a lot of the speeches this year seemed to keep up with the same sort of thoughts, joking and laughing and making fun of one another. Yes there were snubs and pictures that you would have thought would have won but didn't. Actors that should have won, but didn't. That's the way its going to be. Not everyone is going to like something, not everyone is going to agree...
And thats the true beauty of Hollywood.