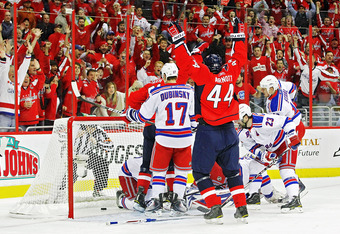 It all came down to this. Game 5. At home. With a packed arena it felt like it was do or die time. We would either win this game, win the series and sit for the next week while the Rangers would start their game of golf. Or we would lose, bring the series back to NYC, and give them some hope to keep the series alive.
For selfish reasons, I really wanted them to win this one. By winning it would mean I would get my husband for a week while the rest of the other series finished up. It meant that maybe just maybe for the next few days we could talk about something other than hockey. By winning it would mean that for just a bit, the nay sayers may shut up and actually believe in us.
That didn't mean my nerves weren't in full swing mood. The Caps came out charged and pumped. The fans were just as loud as the team was pumped. And when the puck dropped on that first period, we all knew, this was going to be a big game. To give the Rangers credit they were pumped in those first few minutes. In truth, they too had something to play for. But their steam seemed to fade out quickly, and when Green scored just minutes into the period, we let them know they were back in DC, and we were in fact a lot louder than NYC anyday. Nor wore they going to escape this town with a victory.
That goal seemed to be the doom for the Rangers. For after that, they seemed to lose their steam, quickly. If they hadn't then, Ovi's goal in the second-which was pretty sweet to see-sealed the deal. From that moment on it seemed as though they resigned themselves to the fact that they will be playing golf in the morning. It was more as if they were playing to get lucky than to win.
By the third the Caps were in full defensive mode. Sure we tried to score, but from where I sat all they had to do was hold them, play defensive and if they blew them out of the water that much more it was all just a little bonus. By this time chants of Hey Hey goodbye and Union Station were heard throughout the Verizon Center.
It was this time, just under three minutes to go in the game that I began to realize we would be winning this game. My husband would be home for Easter. He would be coming home on a normal schedule for the next week.
And I too began to yell at the top of my lungs. Not caring when the Rangers scored. I knew this was ours.
Then the final buzzer went off. The place erupted.
We were moving on.
And the Rangers are off perfecting their golf swing right about now.
Sigh. Life is good.
Well for at least a week that is.